Recently, Moon VR video player, which has received high praise and attention in PICO China Mainland store, has emerged as a rising star in the PICO Global store. With its outstanding quality and remarkable performance, it has won enthusiastic acclaim and high praise from global users, showcasing its brand strength and leading position. It not only topped the list of New App but also secured the second spot on the bestseller list, achieving remarkable results.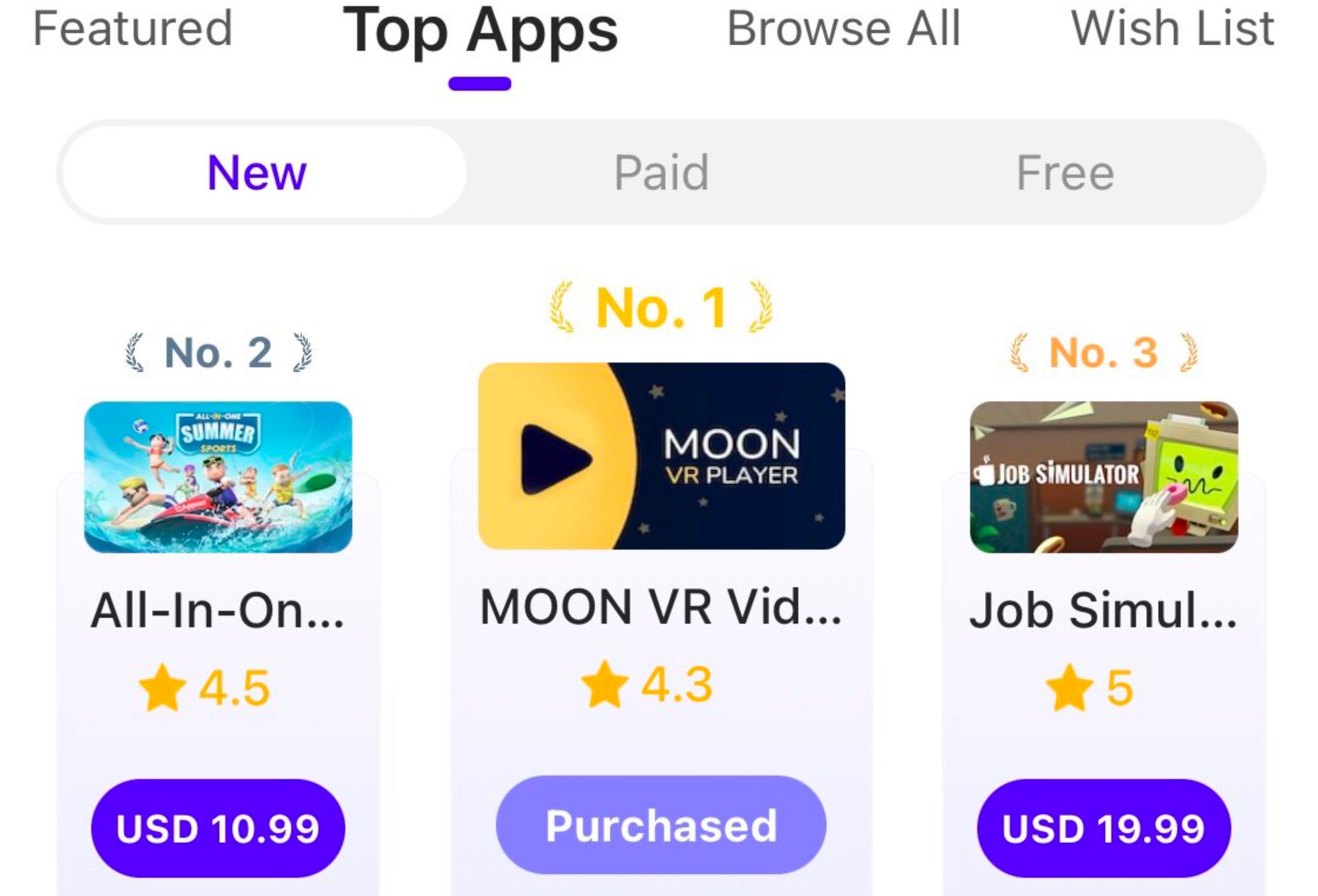 Moon quickly gained widespread acclaim from global users upon its launch. Because Moon supports languages including English, French, German, Japanese, Korean, and Spanish within the app and on the website, we have garnered a group of fans from different countries around the world, who have expressed their admiration for Moon. The picture below shows a review from a German user who mentioned our Passthrough feature that allows him to "hang movies in the room for viewing" and highlighted the convenience of Moon Link, which allows direct dragging of videos from a PC to Moon Link and viewing them in the headset. It is evident that many of Moon's designs and features are deeply loved by users.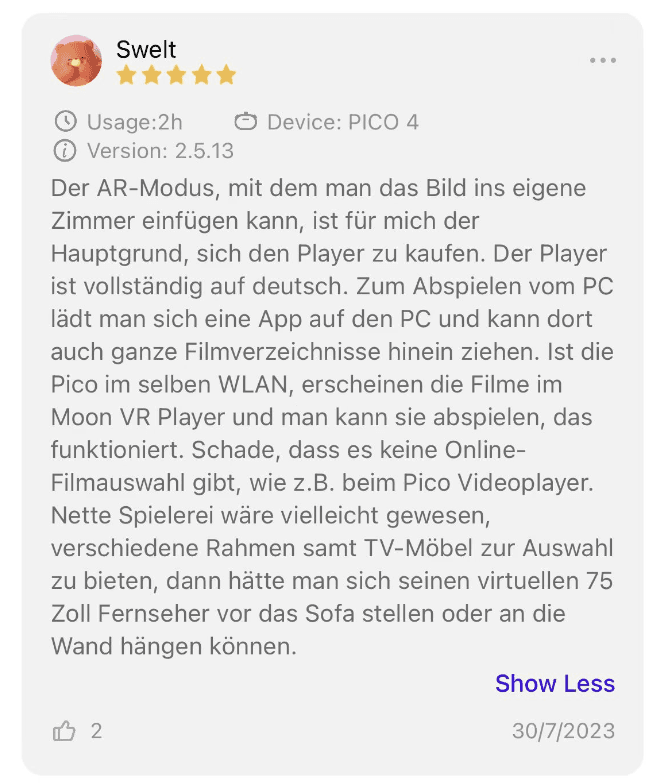 A non-VR enthusiast purchased the Moon VR application based on a friend's recommendation and found the user interface to be clean, clear, and perfectly aligned with his aesthetics. He stated, "The main features are also quite intuitive and easy to use, which is really great for regular users like me who simply enjoy exploring VR/360-degree videos. I believe this app will continue to evolve and improve. While I'm no expert, I plan to keep using it and exploring more. My hope is that in the future, I'll be able to share this exciting experience with my family and friends. The idea of watching videos together in VR is truly thrilling. I'll definitely keep an eye on the app's progress. So just go ahead, the pioneers of the VR world."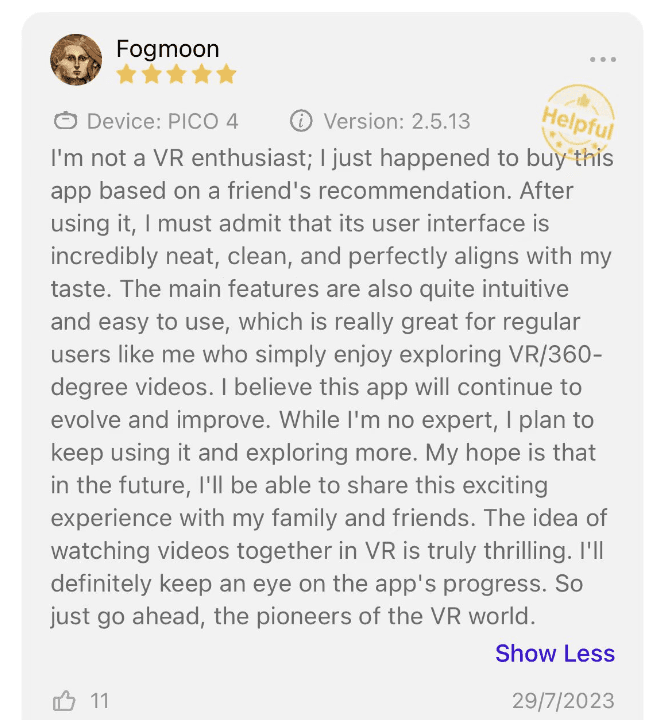 A VR influencer also expressed, "Moon VR Video Player is capable of playing any kind of video inside VR! It has the broadest format support, stable performance, and ease of use while providing fluid and smooth playback. I very much like the SMB/DLNA network support, and passthrough feature which is unique on the Pico platform! The rest of the features include hardware acceleration, advanced decoding algorithms, and minimal resource usage. I recommend it to everyone who watches movies and other videos in VR!"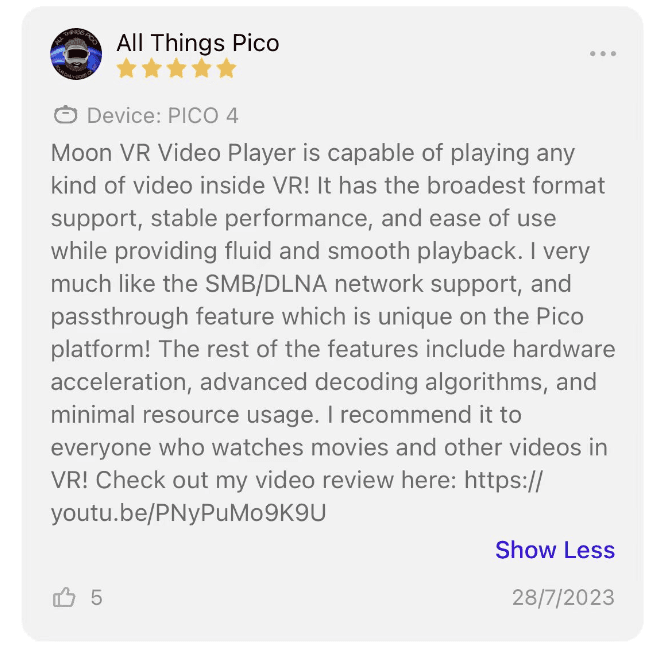 This KOL user even spontaneously created a promotional video for our player to show support. After Moon's launch on the PICO Global store, it quickly gained a group of loyal followers. In addition to a user named "All Things PICO," some Moon "die-hard" fans have meticulously created promotional videos for us, including videos in other languages than English, providing a glimpse into the attractiveness, strength, and widespread fan base of Moon.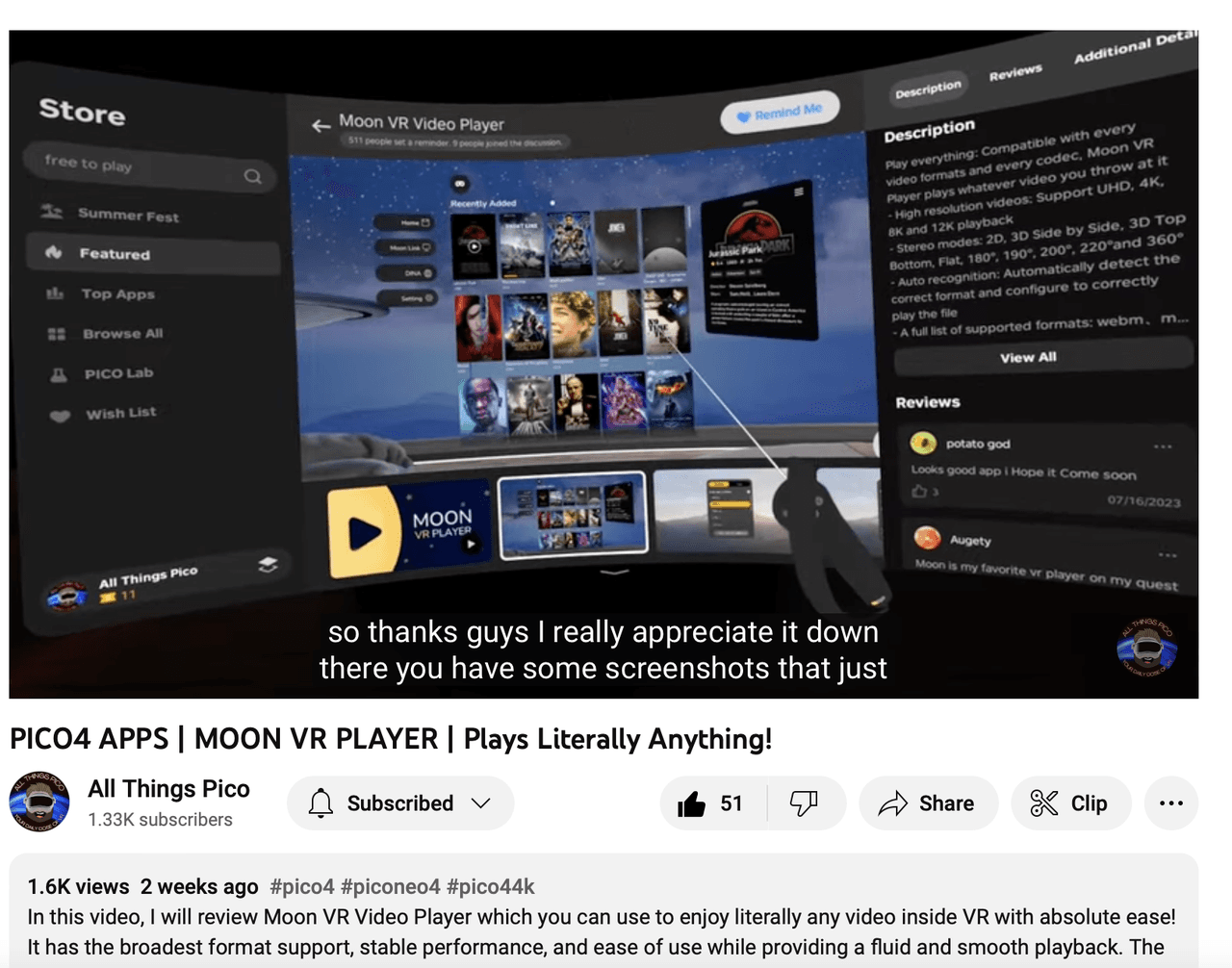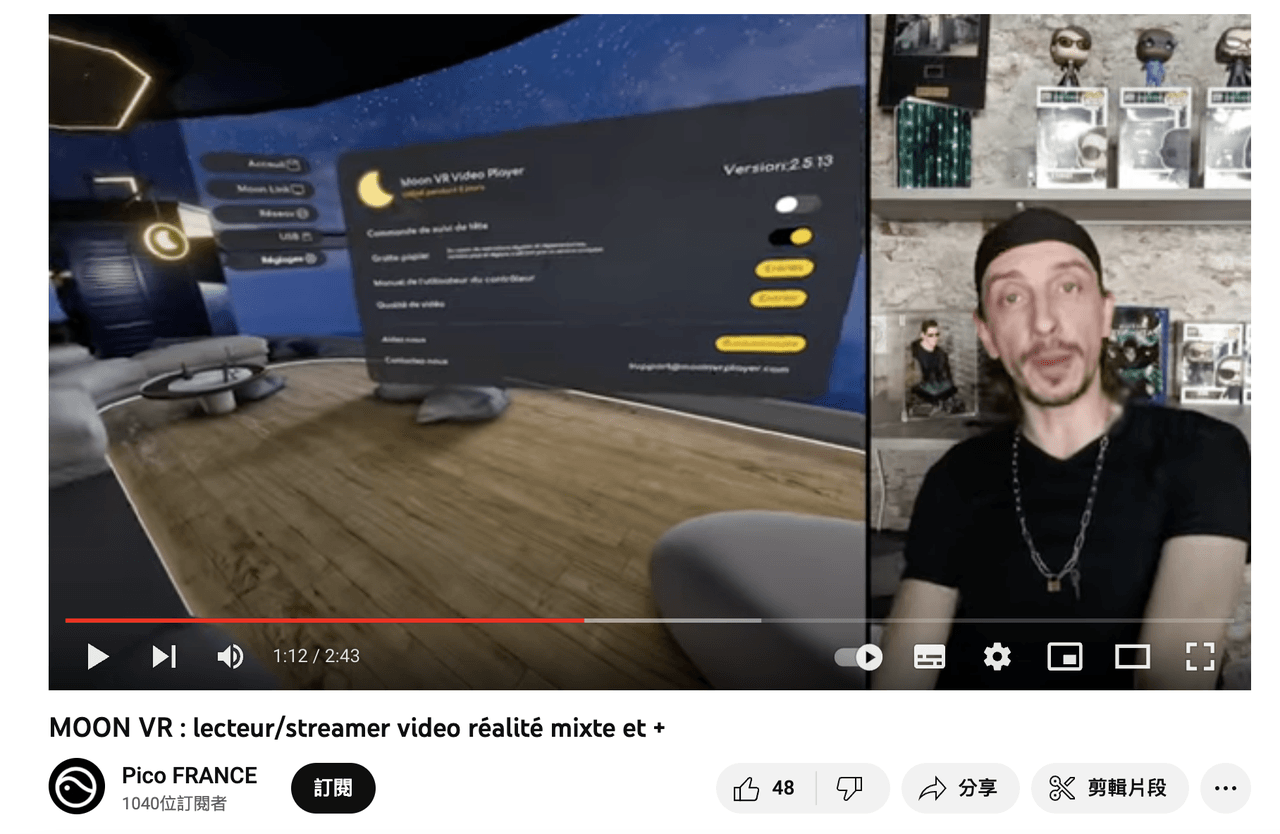 A user from South Korea named "bdp" has been following us for a long time and has become one of our loyal fans, even actively posting promotional content on a Korean forum.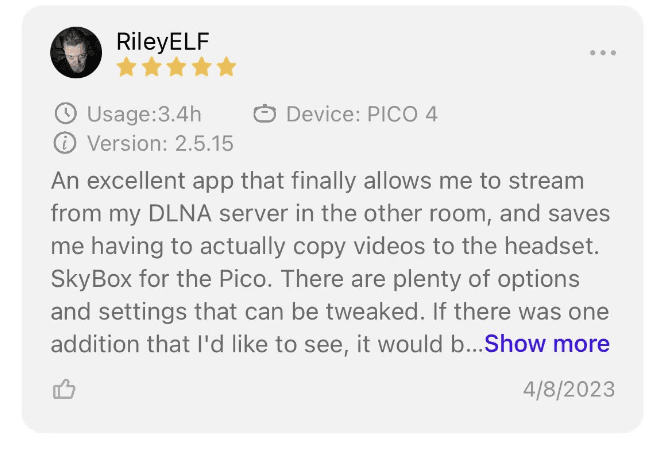 Furthermore, other users have praised Moon for its "very clean and user-friendly UI," "excellent sound and picture quality," and the "amazing Passthrough feature," among others, noting that Moon is the most user-friendly and convenient VR player they have used. While expressing their love for Moon, users have also been proactive in providing suggestions and ideas, which our team highly values. We carefully evaluate these user feedback and gradually incorporate them into future updates.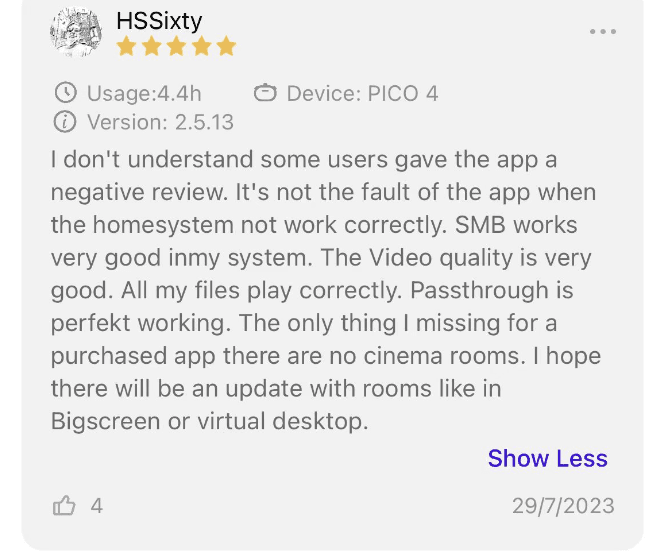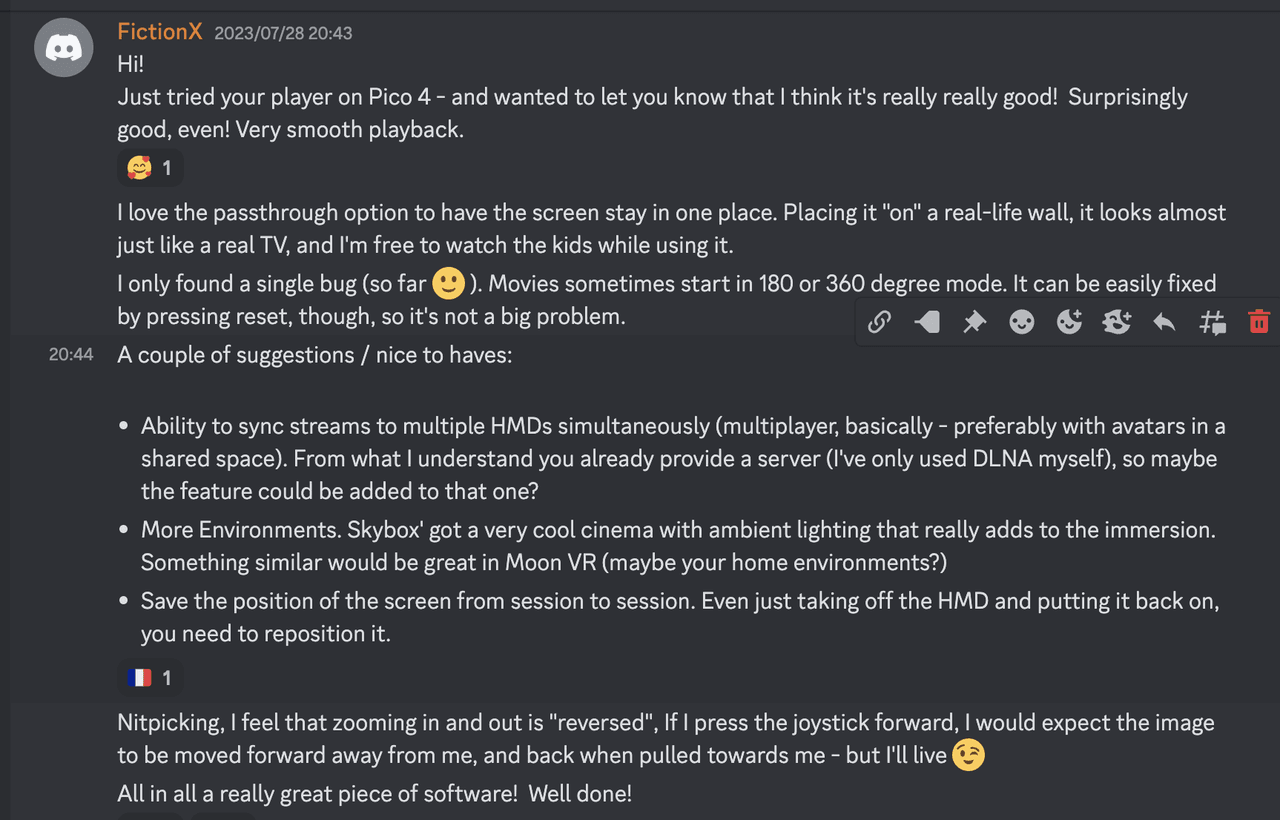 From the positive feedback of these global users, it is evident that Moon VR video player has made a remarkable impact in the international market. Its excellent user interface design, intuitive functionality, and wide format support provide users with an extraordinary experience. Moon VR video player is not just an application; it's an immersive entertainment method that allows users to fully enjoy the pleasure of videos in the world of virtual reality.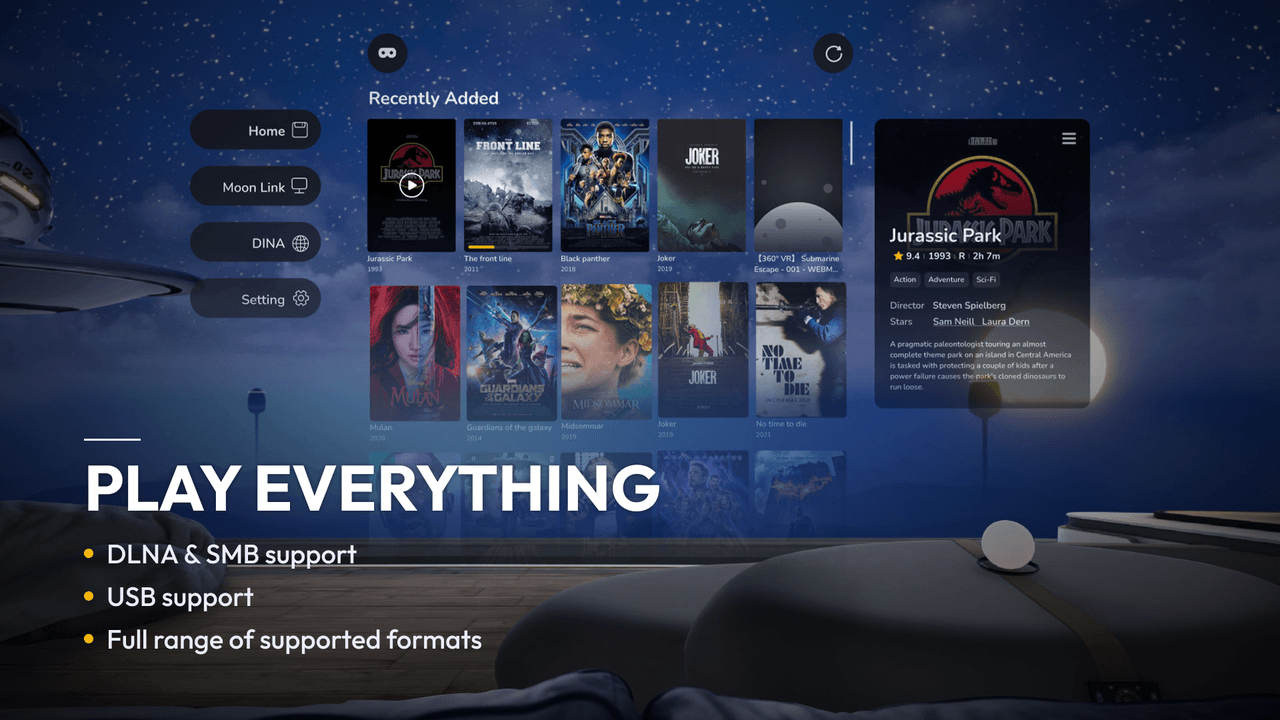 At Moon VR, we persistently pursue high quality and immersive experiences, truly taking users into a new realm of VR entertainment. In order to ensure that the Moon VR Video Player exceeds all user expectations, our development team has invested over 100,000 hours since 2015.
The development of Moon VR Video Player stems from the team's dedication to advancing VR entertainment. We believe that VR users deserve the best products, which is why the Moon team has poured a significant amount of effort into every aspect of this player to provide the highest quality VR experience.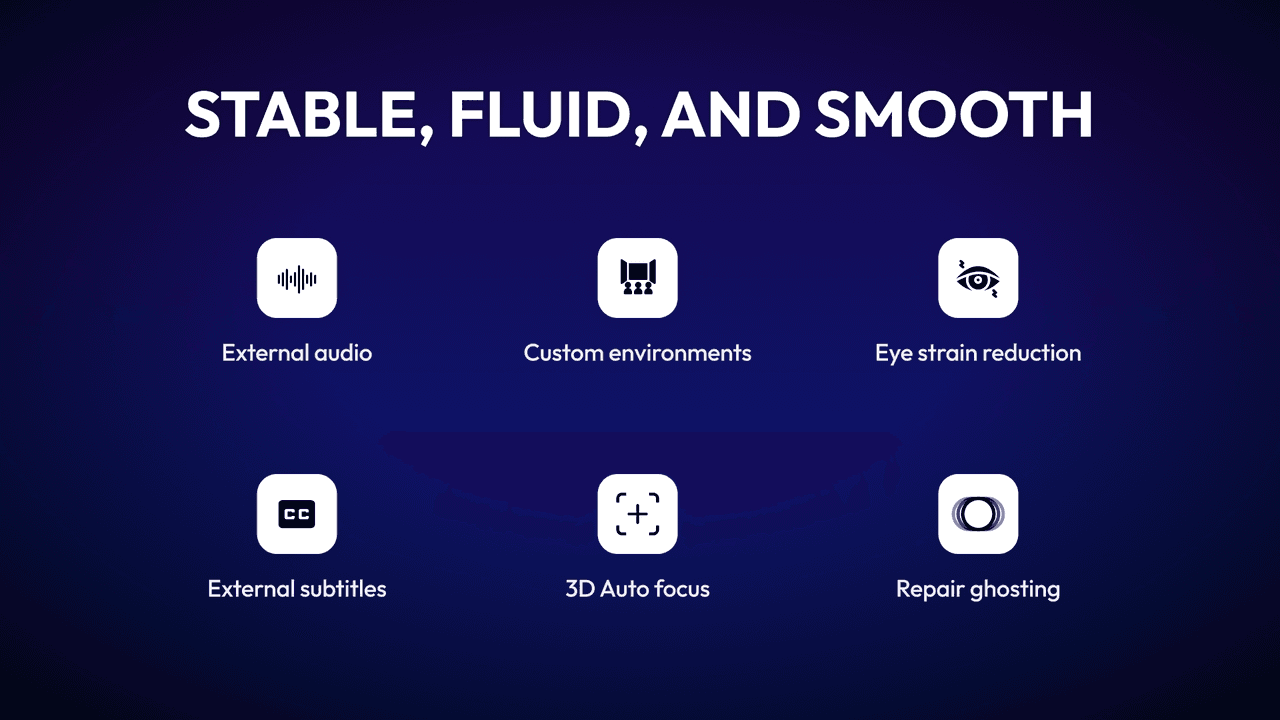 It is foreseeable that the impressive achievement of Moon VR in the PICO Global store is just the beginning of its development. With continuous technological innovation and application refinement, Moon VR will continue to lead the trend in the VR field, bringing more surprises and delights to users. Whether professional VR enthusiasts or ordinary users, everyone can embrace Moon VR without hesitation and embark on a wonderful journey to explore the world of mixed reality!




 
You may also like:
How to Watch Movies in VR
How to Watch 3D Movies on Meta Quest 3
Can You Watch Netflix on Meta Quest 3 and Oculus Quest 2? Here's How To Do It